What is Manual Therapy?
Manual therapy is a safe, effective and non-invasive treatment method that is used by pelvic floor therapists during therapy sessions. 
Typically, patients receive manual therapy when they are experiencing musculoskeletal pain. During treatment, your pelvic floor therapist may use various types of hands on manual therapy to relieve pain and dysfunction. Our highly trained and experienced pelvic floor therapists implement a hands-on approach to healing that is designed to help decrease pain, increase range of motion, reduce inflammation, treat joint structures, and promote faster healing. 
If you or a loved one is experiencing pelvic pain or dysfunction, contact our office today to learn more about the benefits of manual therapy.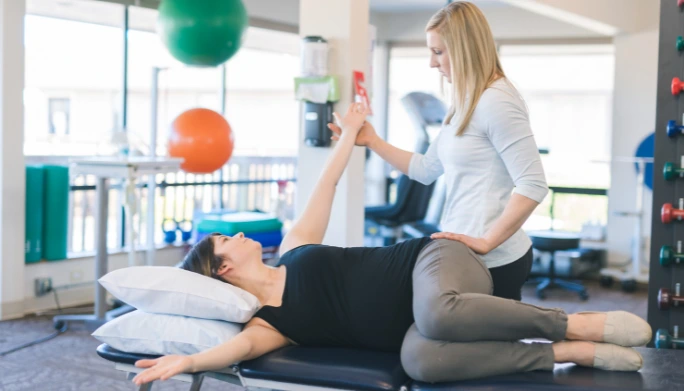 Types of Manual Therapy Used in Wesley Chapel
Joint Mobilization
Pelvic floor dysfunction can often be exacerbated by mobility restrictions in the joints of the spine, pelvis, hips, and even feet/ankles. Our pelvic floor therapists will evaluate you first and then create an individualized treatment plan to loosen up restricted joints through gentle joint mobilization techniques. This safe, effective, and painless manual therapy treatment helps to apply movement to the barrier of the joint and increase range of motion.
Soft Tissue Mobilization
This technique is used by our pelvic floor therapists to gently release muscle tension, decrease pain, increase scar tissue mobility, and more. 
Our experienced therapists will localize areas in the body that have the greatest tissue restriction and mobilize the area using specific hands-on techniques.
Muscle Energy Techniques (METs)
This treatment method is used to help lengthen any muscles in the body that are shortened and mobilize any restricted joints that are causing pain. During treatment, the muscles are contracted using a controlled counterforce that our pelvic floor therapists work to apply in a specific direction. Once contracted, the joint is taken to its new barrier, resulting in pain relief and increased range of motion. 
How is Manual Therapy an Effective Part of Pelvic Floor Therapy?
Manual therapy is ideal to help increase blood flow, reduce chronic pain, restore full range of motion and achieve an optimal level of overall wellness. 
This integral part of pelvic floor therapy treatment is safe, non-invasive and ideal for treating individuals with a variety of symptoms. 
Before our therapists perform any form of manual therapy treatment, a full evaluation of your musculoskeletal system in relation to your pelvic floor will be completed. 
From there, the best type of treatment to fit your individual needs will be implemented in the hopes of achieving fast pain relief and results. 
We are highly trained in assessing and treating pelvic floor dysfunction. Your treatment plan will likely include several different types of therapy, not just manual therapy. All of which are aimed at helping you improve the function of your body! 
Some exercises may focus on improving your coordination and strength, while others may focus on increasing your flexibility and range of motion. Manual therapy can be an integral part of your treatment plan, as it helps to reduce pain, minimize inflammation, and increase range of motion.
Request An Appointment
Please fill out this form and
we will contact you about scheduling.


-Ashley C.

"It's been a little while since my last appointment with the wonderful Gabi but I just remembered I had not done a review. She is such a bright shining light in this world that I knew I had to share with any woman looking to heal her pelvic floor. Before Gabi, sexy time was not at all enjoyable. After having my first child, I experienced many changes that many mamas will tell you just goes with the territory but as a holistic practitioner I know that we were designed to heal. Gabi was recommended by a midwife I know. Even after the first session, I was able to enjoy time with my husband again!! I saw Gabi for several sessions and would have continued but it was a very long drive for us, and with a toddler to entertain… it was getting a bit more taxing, so I said a grateful goodbye.. Gabi is exactly who you are looking for. She's kind, knowledgeable, thorough and was always responsive to any questions I had. She's an Angel sent from the Pelvic floor goddess. Lol. But seriously, I'm So grateful she exists. Thank you for all your support, guidance and work, Gabi! 💗🙌"


-Cyndel S.

"Dr. Gabi is a Godsend! She is extremely thorough, thinks outside the box (super important as a therapist- coming from one myself!), and compassionate. I love that she included me in my own plan of care, asking me what MY goals are. After only ONE session, I noticed decreased pain during intimacy (my main reason for visiting her) as well as less coning in my upper abs. I am so thankful I stumbled upon her page in my search for a PFPT!"